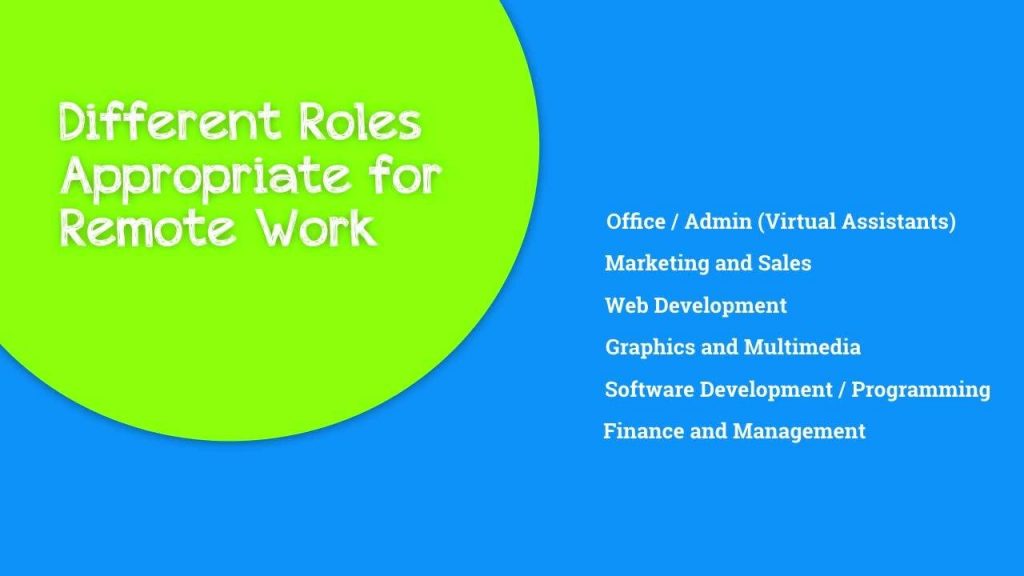 Find out which remote working roles suit your current qualifications and experiences. This topic enumerates different roles and sub-roles that can be carried out remotely.
Because of technological advancements, many roles today can be done remotely. With this, some roles are more fit for remote work than others. The qualities are as follows:
Can be done online
Doesn't need physical labor or presence
There are remote tools and software for collaboration
To give you an idea, here is a list of some work roles that can be done remotely.
Office / Admin (Virtual Assistant)
Most foreign business owners get quality virtual assistants to delegate admin tasks.
Right now, Virtual Assistant tasks are easily doable online with communication tools such as Slack or Skype and cloud-based file sharing apps like Dropbox and Google Drive.
With this, the business owners now have more time for the crucial tasks and you get opportunities to work-from-home. Here are some virtual assistant needs as of today:
Data Entry
Research Support
Transcription
Travel Organising/Planning
Event Planning
Project Coordination
Admin
Email Management
Quality Assurance
HR Management
Excel Management
Personal Assistant
Chat Support
Order Processing
Marketing and Sales
The Internet is at the forefront of marketing. People are now connected online through different social media channels.
Every business should have an online presence. With multiple collaboration tools and software, marketing and sales efforts can now be done remotely as well. Here are some careers in remote marketing and sales:
SEO
Email Marketing
Telemarketing (CSR, Tech Support, Appointment Setter, Outbound , Inbound)
Direct Mail Marketing
Social Media Marketing
SEM
Lead Generation
Affiliate Marketing
Video Marketing Content Creation
Instagram Marketing
Youtube Marketing
Facebook Marketing
LinkedIn Marketing
Google Marketing
Ecommerce Marketing

Amazon Product Listing
Amazon Product Ads
Web Development
The world wide web is the real estate of the new era. People search a web address for reasons like entertainment, shopping, or just somewhere to learn something new.
But these virtual addresses need to be developed to look pleasing to the eye and to work smoothly as intended. That's why web developers are and will still be in-demand for remote work. Here are some in-demand programming languages and expertise in web development:
PHP
Mysql
Javascript
Joomla Development
WordPress Development
Optimizepress
Laravel
Magento
Shopify
ClickFunnels
WooCommerce
InfusionSoft
ASP.NET
Node.js
React
AngularJS
VueJS
Web Services
Graphics and Multimedia
Alongside marketing, graphic design and multimedia content creation is an essential piece for businesses. Businesses want to have visual content that is highly attractive for their target market. This is the reason this industry is also in demand online. Here are some opportunities in graphic and multimedia:
Logo Design
Web Page Design
Graphics Design & Editing
3D Modelling and Rendering
Illustrator
Animation Specialist
Video Editing and Creation
Software Development / Programming
Applications and software development is another emerging industry for remote work. More and more innovation shows its way in the digital world. But at the same time, a lot of new problems come with it.
For example, 15 years ago, remembering multiple passwords isn't actually a problem. But right now, most websites have subscription logins that need a password. How can you track all those secret phrases you registered with? There is an application for that.
And a lot of rising industries will balloon for the coming decades. That's why software development and programming will be a perfect fit for remote work. Here are some:
Game Development
iOS Development
Android Development
Desktop Application
Software QA testing
Python
C#
Finance and Management
Every business needs to track their finances. It allows them to know where they are currently standing financially and what to strategize to get to their goals.
The good thing is there are multiple online financial applications that can be used to maintain business books. That's why finance & management roles can be done remotely. Here are some careers for it:
Accounting
Bookkeeping
Business Plans
Financial Management
Financial Analysis
Financial Forecasting
Tax Preparation & Assistance
Investment Researching
Inventory Management
Payroll
Quickbooks
Xero